Rework Your Relationship in 30 Days!

Guys often wonder what women want and Gals often ponder what their guy is thinking. But Guy-Gal relationships don't have to be such a mystery. In fact, there is a science to it.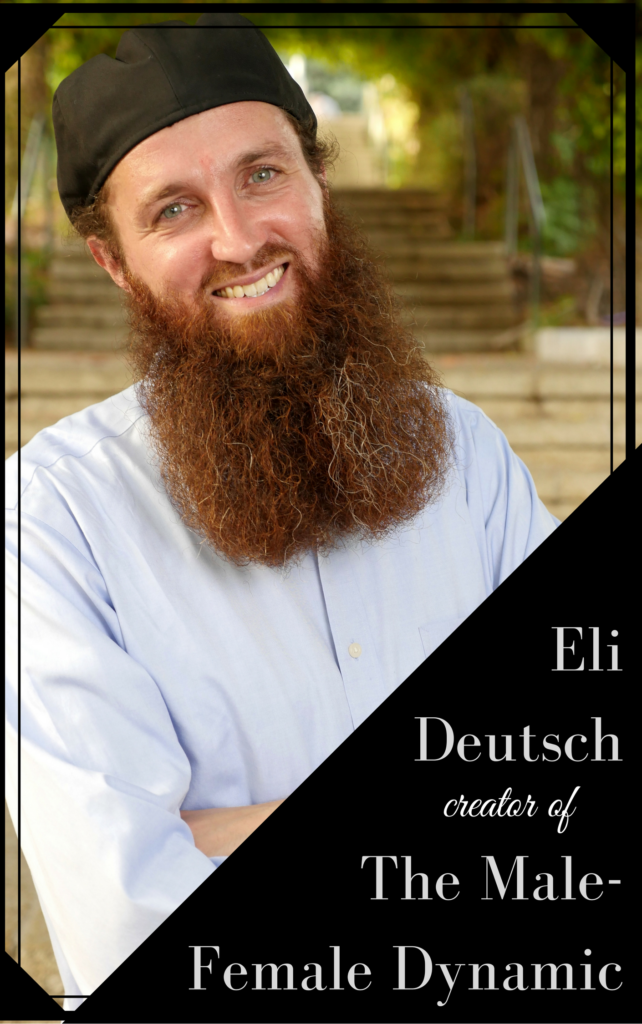 Rework Your Relationship in 30 Days outlines a systematic understanding of how men and women think, feel and act.
There are many relationship improvement seminars and workshops with helpful tips, but they fail to connect the dots and they don't transmit a holistic system that reshapes how you think about relationships.
In Rework Your Relationship in 30 Days, you and your partner will implement Male-Female strategies that grow out of the core principles behind what makes guys and gals tick. I will take you and your partner by the hand to make sure you both get past the destructive patterns that have been eroding your relationship and reawaken the passion, connection, love and intimacy that the two of you desire — and teach you how to make it last!
If you're looking for rapid concrete change that lasts, I don't know of any program better than Rework Your Relationship in 30 Days!
What you Get
THREE Tutorial Videos outlining Eli's proven Male-Female system
THIRTY Laser Instructional Videos for women
THIRTY Laser Instructional Videos for men
ONE incredible relationship with the LOVE of your life!
PLUS Private Email Access with Eli to get your questions answered

GUYS,
Do you feel manipulated or guilted out of leading the life you want to live?
Would you like your woman to be more open to you and your ideas?
Does it feel like your woman values you and your opinion less than anyone else's in her life?
Does your gal come across as needy, spoiled or immature?
Does it feel like your gal is preparing her "no" before you've gotten half-way through your suggestion?
Would you like your woman to be "softer" instead of wearing a "rough" or "sharp" exterior?
Do you want to make your gal smile and laugh, but it feels like she does everything to undermine that?
Are you feeling suffocated by your woman's unending need to control?
GALS,
Do you want your guy to take initiative, be more assertive and to follow through?
Do you want to be able to relax into your man and feel taken care of?
Are you wondering why your man seems distant even though you've tried everything to create closeness and connection?
Does it feel like your guy isn't present even when he's present? Would you like your guy to focus in on you in a way that makes you melt?
Do you want to unleash your man's ultimate passion for you and for life?
Do you feel like your man is neutering your relationship by expecting you to think and act like him?
Do you want your man to put you up on a pedestal and treat you like the princess that you are?

Here is What our Couples Have to Say:
"The entire 30-day workshop was greatly rewarding. Over one magical month, I developed a whole new understanding and a much deeper relationship with my husband. I also discovered how to relate better with my friends and family."
"The end result of training with Eli was that we built our marriage into a dream relationship. I get treated like the princess that I am. I make choices from my inner authentic feminine core… and I even switched jobs and make 25% more now!"
"I was truly impressed how within a couple of weeks these principles were able to create such a noticeable positive change in my marriage. I would highly recommend this to anyone that is interested in having a more meaningful and enjoyable life."
"Major Relationship Success!!!… Leaving my dysfunctional relationship of two years was tough, but it was by far the best move I ever made. Eli's clear principles and practical exercises led me to the new man in my life. The benefits? A refined healthy balanced relationship with a REAL man, he wines and dines me and treats me in accordance with my new-found value. He looks at me with this intense depth and my heart melts. WOOHOO!!!"
"Now, every time I do something that makes my wife feel cherished, loved and held above all else, she asks me, "Are you 'reworking your relationship' right now?" Then she gives me this sweet intimate smile that is priceless!"
"Using Rework Your Relationship techniques, my husband asked me out three times last week. He can't resist me and I feel like a million bucks! What a change of pace."
"I was constantly complaining about why things just felt so 'blah' in my relationship and I had tons of anxiety about that… Eli [said] 'if you go through my program you can get your guy pursuing you instead of you pursuing him', and I remember thinking 'this guy is a jerk, I can't believe he just said that to me.' And a week into the program, my husband starts texting me again throughout the day and we rendezvous for 'lunch break'. Crazy to think about from just a short time ago."

Men,
Do you feel a lack of direction in your life?
Do you feel that you are often sacrificing your purpose for what she wants?
Do you feel like you're not living out the reality of who you are?
Do you feel unable to express your ideas and opinions without having Hell to pay?
Do you feel you need approval from your partner?
Do you feel you are treated like a child by your partner?
Do you feel not truly heard or misunderstood?
As a man, Rework Your Relationship in 30 Days will imbue in you that the feminine core of a woman doesn't want you to look to her; she wants you to look through her. Instead of being effected by her troubles, trying to calm her down, running for cover, or rolling your eyes and walking away, your woman's feminine essence desires for you to demonstrate that you are not personally effected by her emotional outbursts and momentary worries; that you see right through them to the core of her essence. When you stand strong with her in the face of adversity, she knows she can trust you with her heart, her future, and all of her being.
Women,
Do you feel unable to relinquish control?
Do you feel unable to put yourself in his hands?
Do you lash out with anger when you feel hurt?
Do you find yourself arguing with him even though you resolved to be more agreeable?
Do you opt for defensiveness over fragility?
Do you find yourself orchestrating plots in order to avoid the possibility of being rejected?
Do you crave intimacy and connectivity but find your relationship to feel cold and distant?
As a woman, Rework Your Relationship in 30 Days will imbue in you that the masculine core yearns for feminine openness. A woman who opens herself to receive her man's vision and facilitate his direction is cherished for her alliance and all of the expansiveness that is born through her. Her man immensely appreciates her partnership and is deeply attracted to her feminine vulnerability. He feels a sense of oneness with her and gives to her endlessly.